Generous donations to The Power to Care from Entergy Corporation customers and employees were recently matched by shareholders for a total of $2.5 million to help qualified customers in need pay their electric bills.
The Power to Care Fund, which is administered by local nonprofit organizations, supports Entergy's commitment to improve our communities and empower our customers. One hundred percent of all customer and employee contributions to The Power to Care go to help seniors and disabled Arkansans in crisis.
In 2015, The Power to Care provided more than $1.8 million in assistance to 11,000 elderly and disabled customers in Mississippi, Louisiana, Arkansas and Texas.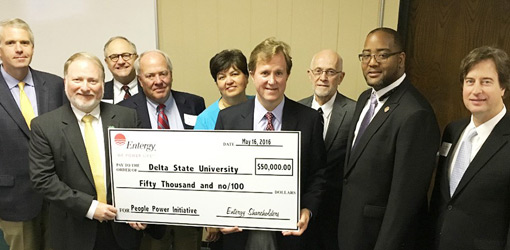 Entergy Mississippi, Inc. will make a multi-year investment of more than $1 million from shareholders to help prepare the state's workforce and raise its competitive level to attract business and industry.
The People Power Initiative, announced at the Mississippi Economic Council's annual meeting, comes on the heels of a $250,000 commitment Entergy Corporation recently made to support Jobs for America's Graduates. That commitment includes $75,000 for Jobs for Mississippi's Graduates, a program that fits with the state's other workforce efforts.
"We're dedicated to partnering with organizations like MEC and its members to increase economic development in the state," said Haley Fisackerly, Entergy Mississippi president and CEO. "To do that, it's imperative that we have a trained and ready workforce."
The focus of the investment is to engage and inspire middle– and high-school students through innovative, hands-on STEM programs, and let them hear first-hand from professionals about career opportunities. Counselors will be trained and equipped to help guide students in career preparation.
The programs target schools where potential economic growth is tied to existing, certified industrial sites in Entergy's service area.
"We currently don't have enough qualified technical workers to meet the needs of industry," said Ed Gardner, Entergy Mississippi director of economic development. "We believe this investment will support programs that will help students make informed decisions about their future education and career opportunities. Education is key to economic success."
The People Power Initiative will also fund scholarships that will be awarded to outstanding students who might not otherwise be able to attend college.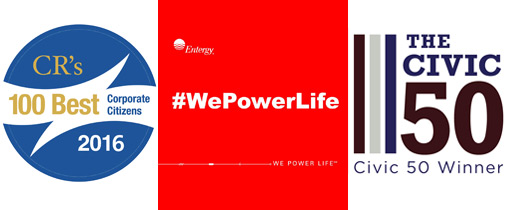 Entergy Corporation has been recognized nationally for its efforts to improve the quality of life in the communities it serves. Entergy was included in Corporate Responsibility Magazine's 2016 list of the 100 Best Corporate Citizens and was ranked as one of the most civic-minded companies in the nation by The Civic 50.
"Being recognized as one of the country's best corporate citizens is a positive sign that Entergy is living up to its vision, We Power Life," said Leo Denault, Entergy's chairman and chief executive officer. "Our team members not only provide reliable, affordable power and gas to customers but also actively support strategic initiatives that improve educational and employment opportunities, boost economic development and protect the environment."
Entergy was ranked 18th among the 100 Best Corporate Citizens — the highest-ranking electric utility on CR Magazine's list. In the category of philanthropy and community support, Entergy was ranked fourth. Entergy also achieved high rankings in environmental performance, climate change and employee relations.
The Civic 50, an initiative of Points of Light, cited the social and business value of Entergy's community engagement. Entergy invests $16 million annually in community improvement programs in the areas of education, workforce development, arts, health and environment. In 2015, Entergy employees contributed more than 100,400 hours of volunteer service valued at more than $3 million.
Additional information on Entergy's commitment to community can be found in the company's 2015 Integrated Report and at "Our Community" on entergy.com.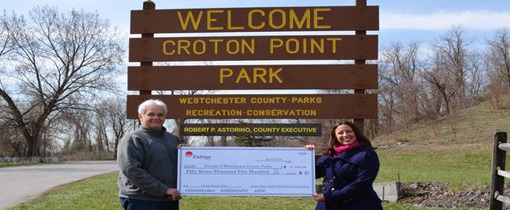 Entergy Nuclear presented a $57,500 grant to Friends of Westchester County Parks to fund a number of improvements to Croton Point Park, one of the county's most popular recreational areas. Plans include the installment of two rain gardens to improve storm water management. Entergy is the owner of Indian Power Energy Center.
"We are so thankful that Entergy is helping us with this initiative," said Joe Stout, executive director of Friends of Westchester County Parks, in a prepared statement. "With increased development and impervious surface throughout Westchester County, storm water management has become a concern of every municipality and sewer district."
Rain gardens are an innovative solution for municipalities facing increased requirements for onsite storm water storage.
"In addition to storing water, rain gardens offer other benefits," said Joanne Fernandez, Entergy's government affairs manager and chairperson of Friends of Westchester County Parks, in an article published in the Ossining-Croton-On-Hudson Patch.
"Plants in the garden absorb water for use, and filter water in order to obtain nutrients and minerals from effluent. Use of a successful storm water control technique will benefit from increased education at public sites," she said. "This is a very important project, and Entergy is pleased to help with this initiative at a park that is so well-enjoyed by our community."
The grant also will help fund the addition of solar power capabilities to the Croton Point Park office and educate the community about solar power and storm water management.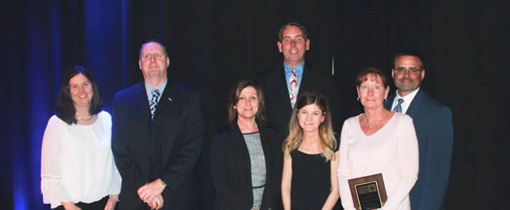 Entergy Nuclear's James A. FitzPatrick Nuclear Plant received the Spirit of Community Award from the United Way of Greater Oswego County in recognition of employees' community involvement and volunteerism.
The award was presented in March during the United Way's annual "Salute to Volunteers and Leadership Giving" reception. United Way representatives thanked FitzPatrick employees for being loyal partners and for their year-round support of the United Way.
Entergy is a sponsor of the United Way's annual golf tournament and fundraising campaign, and employees also volunteer as project leaders and participants in a variety of United Way programs in the community.
Entergy's Carolyn Thompson and Tammy Holden accepted the award on behalf of the FitzPatrick team.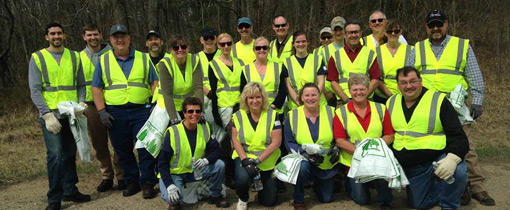 A group of volunteers from Entergy's Palisades Nuclear Power Plant picked up trash along a portion of I-196, marking the 21st year for Palisades to participate in the Michigan Department of Transportation's Adopt-A-Highway program.
In addition to honoring Earth Day 2016, their effort paid homage to Palisades employee Karyn Ridley, who was the driving force behind the site's participation in the clean-up effort until her death from cancer in 2013.
"Fun, fellowship and fresh air, combined with a desire to beautify the community where we live and work, are what make this volunteer project worthwhile," said Palisades employee Rita Kolberg, who helped organize the clean-up. "A mix of new recruits and seasoned veterans representing employees, contractors and family members worked together to make our portion of I-196 from mile marker 11 to 13 a little cleaner."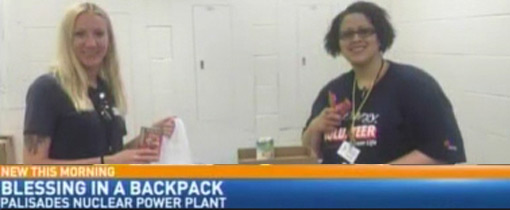 Every Friday, Larissa Classen and Carrie Jones, employees of Entergy's Palisades Nuclear Power Plant, prepare care packages for students at Maple Grove Elementary School in South Haven, Michigan, as part of the "Blessings in a Backpack" program.
"Blessings in a Backpack" mobilizes communities, individuals and resources to provide food on the weekends for elementary school children who might otherwise go hungry. On Fridays, volunteers meet to fill backpacks with everything from canned pears and pasta to cereal; backpacks are then distributed to area schools for kids to take home.
"I like doing something that gives back to the community and shows the public how Palisades is making a positive difference in peoples' lives," said Jones.
"I think Palisades is a huge part of the community," Classen said. "I personally know that the backpack program helps a lot of kids in South Haven."
In May, their participation in "Blessings in a Backpack" received coverage from WWMT NewsChannel 3.
In addition to volunteer activities, Palisades donates more than $300,000 annually to area schools and non-profits.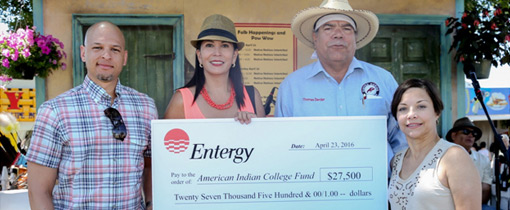 Entergy Corporation presented a $27,500 check to the American Indian College Fund that will provide scholarships to students who are members of tribes located in Entergy's communities.
The check was presented to Chief Dardar of the Houma Nation in April during the New Orleans Jazz and Heritage Festival, where Louisiana Native Nations featured an educational exhibit and activities to raise awareness of Native American cultures.
Scholarship recipients include 12 students in Louisiana, eight of whom are members of the Houma Nation; as well as students who are members of tribes in Michigan, where Entergy operates Palisades Nuclear Plant.